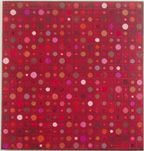 Christopher French, "New Paintings: Contradictory Resemblances"

Exhibition dates: April 8 - May 20, 2006

images



Press Release:

Christopher French
"New Paintings: Contradictory Resemblances"
April 8 - May 20, 2006

The Marsha Mateyka Gallery is pleased to announce its sixth solo exhibition for Christopher French. This artist is well known to Washington DC audiences foremost as a painter, but also as a teacher, an arts administrator and an art critic. He now resides in Houston, Texas where he maintains his studio.

In his new work, Christopher French continues his interest in conceptual issues related to perception. In these new paintings, circles of varying sizes and colors are arranged within a grid of Braille graph paper. The colors themselves are often limited to color "families" - modulations of red, yellow or blue, warm or cool, light or dark. The arrangements are restricted by rules chosen by the artist, at the outset. The resulting images are anything but predictable.

The color in each painting resonates in a way that could only be the result of the artist's own intuitive choices and sense of color. "My newest paintings use the variability of gridded color patterns or panoramic spreads of saturated color to intimate iconic meanings or imply multivalent images. Painted on Braille pages gridded for graphing and mathematical calculation; 50-50 Proposition, My Name is Red and Lucid Vertigo are constructed intuitively, and their Rorschach-like color spreads offer a springboard for viewers to assemble their own images from an abundance of seemingly random visual detail."

Christopher French continues; "My approach to making art catalyzed in 1986, when I found a book of Braille paper on the streets of New York. At first only the vigorous textures of the paper caught my eye, but I quickly became fascinated with the textual as well as the textural potential of my materials. Indeed, by 1991, several years after I had moved to Washington, DC, the text had become the image, with each series of seemingly abstract paintings stimulated by a historical work of literature".

The use of Braille paper in this new work is no longer for its implied text. Instead, the artist is using the raised dots of Braille graph paper to plot his arrangements of painted circles. In doing so, he posits a contradiction. A paper that was made to be read by touch is being used for its visual structure.

Christopher French has historical connections to the Washington DC area. He taught at the Maryland Institute and the University of Maryland. In the '90's, he was an art critic on WETA's Around Town program. Also, he served as Director of the Washington Project for the Arts.

His works are in major museum collections including the Hirshhorn Museum, Corcoran Gallery of Art and Smithsonian American Art Museum.





For further information, please contact the gallery, 202 328-0088 or visit our website, www.marshamateykagallery.com.


---